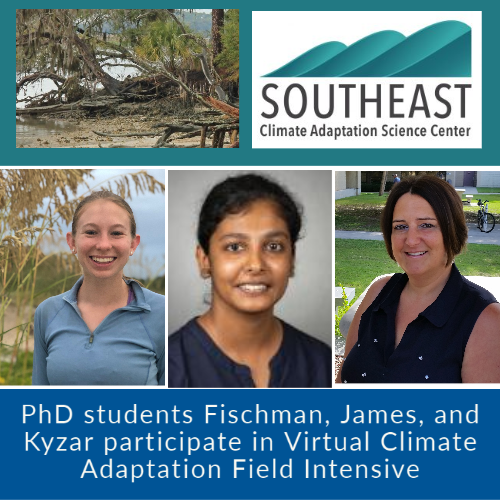 UF Water Institute Affiliate doctoral students Hallie Fischman, Harsha James, and Tricia Kyzar participated in the Southeast Climate Adaptation Science Center (SECASC) Field Intensive in August. This is the second Field Intensive experience for UF students that has been supported by the Water Institute and SECASC. The course objectives included learning about challenges and strategies for climate adaptation in natural resource management, co-production of knowledge, ethical engagement with Tribal Nations, and science communication.
Although the course was altered from an in-person field experience to a virtual setting due to COVID-19, students gained a lot from the experience and were able to build new skills and relationships. Tricia noted that, "even with the virtual aspect it was a great week. Definitely 'immersive'!" The course included a mixture of presentations and small breakout group activities, which were for Hallie "the most memorable and exciting. For example, after a lecture on decision making in restoration, we broke into small groups and discussed a restoration strategy for a small island threatened by sea level rise with an endangered turtle population."
Other highlights from the course included an emphasis on engaging with people outside of academia and connecting researchers with the managers implementing the research. Hallie said, "it made me really see the importance of building a network of practitioners and conveying my findings directly to them. Moving forward, I will definitely reach out to coastal managers to share my findings." For Tricia, the most impactful presentation was one on "Ethical Tribal Engagement", noting that the richness of tribal "historical, natural knowledge" is critical for natural resource management and methods.
Lastly, students were able to connect with a cohort of climate-focused researchers and students. As Harsha noted, "it was wonderful to know that there are so many other people interested in the topic of climate change and interesting to learn about different dimensions of climate change."
September 14, 2020