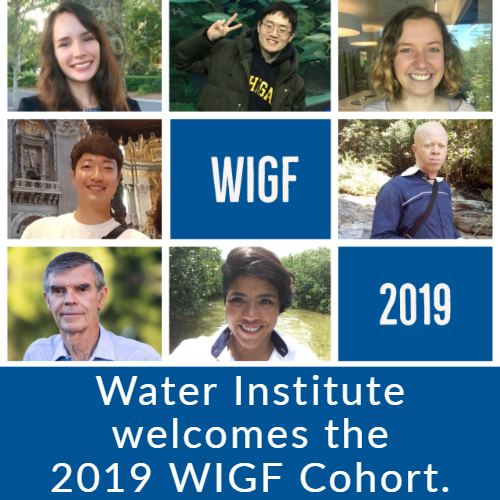 Meet the 2019 Water Institute Graduate Fellows cohort!
The Water Institute is pleased to welcome the newest WIGF cohort to campus. Since 2011, four cohorts have experienced unique and varied educational experiences. The 2019 cohort, focusing on the science of high latitude hydrology, includes Megan Black (Geological Sciences), Izuchukwu Ezukanma (Biology), Quincy Faber (Microbiology and Cell Sciences), Fernanda Gastelu (Engineering School of Sustainable Infrastructure & Environment), Michael Munroe (Journalism and Communications), Jaehyeon Lee (Soil and Water Sciences) and, Yuseung Shin (Natural Resources and Environment).  
The collaborative and interdisciplinary work of this highly diverse and qualified cohort will contribute to the understanding of the impacts that ice retreat has on high latitude hydrology, expanding the Water Institute's portfolio of research topics and geographical focus areas into an important area of global concern. As the cohort pursues their research interests they will also train in civic practices crucial to solving environmental problems, communications, leadership, civic engagement and public service. Students and their advisors will partner with Greenlandic institutions to complete two civic engagement projects that will engage audiences in the US and Greenland, including students, lay population, and civil servants.
We look forward collaborating with the WIGF 2019 Fellows and Faculty Team in training a community of scientists well prepared for the multi-faceted challenges of today's water issues.
To learn more about the 2019 WIGF Cohort visit: https://bit.ly/2Wp4i9i.  To learn more about the WIGF Program visit https://waterinstitute.ufl.edu/education/wigf/