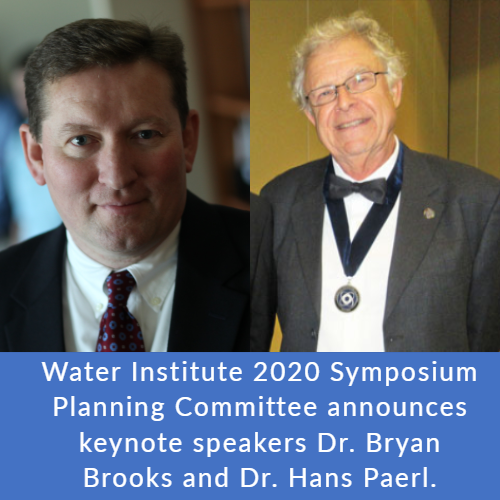 The Water Institute 2020 Symposium Planning Committee is thrilled to announce key note speakers, Drs. Bryan Brooks and Hans Paerl, who will bring a global perspective to the Symposium's focus themes of water quality, harmful algae bloom and climate change.
Dr. Bryan Brooks is a Distinguished Professor of Environmental Science and Biomedical Studies and Director of Environmental Health Science Program at Baylor University. Dr. Brooks' transdisciplinary research interests focus on understanding and managing anthropogenic activities and stressors on both human and ecosystem health. Dr. Brooks and his team work nationally and internationally on water quality, environmental contaminants and sustainability issues, particularly related to rapidly urbanizing regions. Among many other recognitions, Dr. Brooks is Editor-in-Chief of Environmental Management and was elected as a Fellow of the Society of Environmental Toxicology and Chemistry (SETAC) in 2018. See his full bio here.
Dr. Hans Paerl is Distinguished Kenan Professor of Marine and Environmental Sciences, UNC-Chapel Hill Institute of Marine Sciences. Dr. Paerl's expertise is in nutrient cycling, eutrophication and harmful algae blooms, with emphasis on human and climate driven change. As one of the world's leading authorities on coastal HABs, Dr. Pearl has worked with numerous private and public lake and coastal managers and waterfront owners in search of solutions to their HAB problems, with extensive global experience that includes work in the US, China and Europe. Dr. Paerl received the 2003 G. Evelyn Hutchinson Award from the Association of the Sciences of Limnology and Oceanography, and the 2011 Odum Award from the Coastal and Estuarine Research Federation for addressing the causes, consequences and controls of eutrophication in aquatic ecosystems. In December, 2015, he was recognized as a Fellow of the American Geophysical Union. See his full bio here.
Visit the symposium webpage for more information about the symposium focus themes, call for abstract, registration and so much more! https://conference.ifas.ufl.edu/waterinstitute/index.html