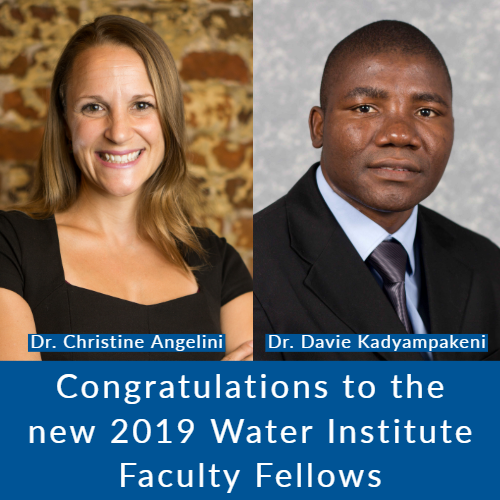 NEW 2019 WATER INSTITUTE FACULTY FELLOWS
Please join us in congratulating Drs. Christine Angelini and Davie Kadyampakeni for receiving 2019 Water Institute Faculty Fellows Early Career Awards, recognizing their contributions to interdisciplinary water research, Extension, and education programs, and for providing substantial support to programs of the UF Water Institute.
Dr. Angelini, Assistant Professor in Environmental Engineering Sciences. Christine earned her Ph.D. in Biology at University of Florida. Christine's research seeks to advance understanding of the mechanisms controlling biodiversity and provisioning of key ecosystem services (e.g. flood mitigation, carbon sequestration) and use this knowledge to inform natural resource management and restoration design. Much of her research is conducted in coastal ecosystems, including salt marshes, mangrove forests and oyster reefs. Read more on Dr. Angelini's webpage.
Dr. Kadyampakeni, Assistant Professor in Citrus Water and Nutrient Management at the Soil and Water Sciences Department. David earned his Ph.D. in Soil and Water Sciences at University of Florida. David's research focuses on optimal irrigation and nutrient application rates for citrus affected with Huanglongbing (HLB) while his extension program focuses on improving water use efficiency and irrigation management in citrus production systems and implementation of best water and nutrient management practices. Read more on Dr. Kadyampakeni's webpage.
Christine and David join 12 previous  WI Faculty Fellows – Drs. Rafael Muñoz-Carpena, Mathew Cohen, James Jawitz , Jonathan Martin, Mark Clark, Michael Dukes, Kati Migliaccio, Arnoldo Valle-Levinson, David Kaplan, Sanjay Shukla, Mark Brenner and Todd Osborne.
Dr. Angelini and Dr. Kadyampakeni will be recognized at a Faculty Fellow Awards Celebration – held jointly with the Florida Climate Institute – on Tuesday, October 22, 2019 at 4:30 in the Keene Faculty Center in Dauer Hall. The 2019 Florida Climate Institute Faculty Fellows, Dr. Wendell Porter and Mr. Thomas Ruppert, will also be recognized at the event.