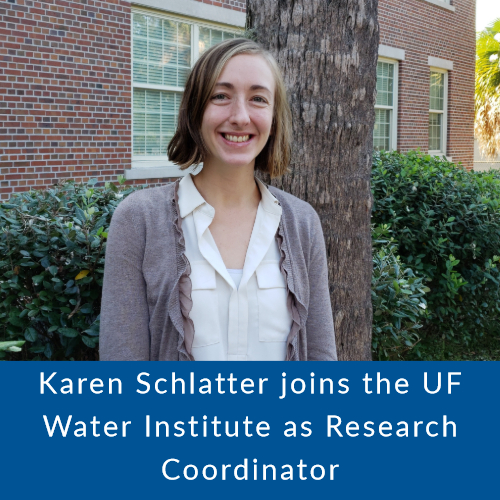 KAREN SCHLATTER JOINS THE UF WATER INSTITUTE AS RESEARCH COORDINATOR
We are pleased to welcome Karen Schlatter who has joined the Water Institute as Research Coordinator III. Karen earned a Bachelor of Science degree in Biology from McGill University (Canada) and a Master of Science Degree in Environmental Studies from the University of Colorado Boulder. She is a UF Natural Resources Leadership Institute (NRLI) Class XVIII alumnus and winner of the class Burl Long award.
For the past nine years, Karen has been working on binational water resource management and ecological restoration on the Colorado River in Mexico. She has facilitated multi-stakeholder partnerships with U.S. and Mexican government agencies, universities, non-governmental organizations, and community groups to achieve conservation goals and inform water policy through collaborative science.
Karen was an agricultural extension volunteer in the Peace Corps in Paraguay and is fluent in Spanish and Guarani. As a Research Coordinator she will apply her diverse background in resource management, interdisciplinary partnerships, and stakeholder facilitation to coordinate the Institute's water-related research, extension, and education initiatives.
Welcome Karen!