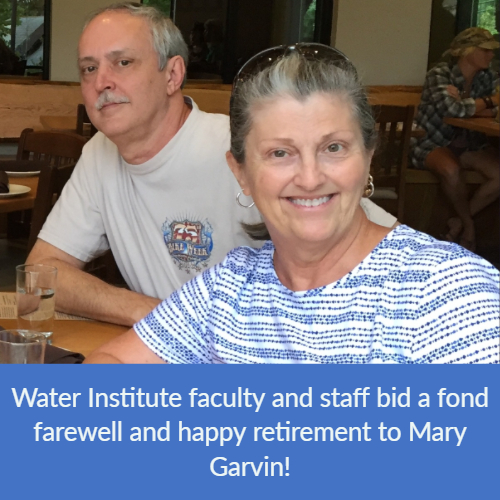 Water Institute faculty and staff bid a fond farewell and happy retirement to Mary Garvin!
On February 7, 2019 Mary Garvin retired from her position as Administrative Specialist II with the UF Water Institute. Since its inception Mary has been the Water Institute's office manager, office accountant, grants manager, symposium planner and executor, and web developer and manager! Mary's support of the Water Institute's programs, people and progress over the years has been unparalleled. It goes without saying her shoes will be very difficult to fill.
"We already miss Mary tremendously, but wish her all the best in her new adventures" said Wendy Graham, Director of the UF Water Institute. " We will be eagerly watching to learn how retirement is done right!"
Mary is planning on ramping up her gardening, ceramics, and other artistic endeavors during retirement, as well as continuing her running and exercise routine. Her first travel adventure will involve a two month camping trip driving from Florida to Alaska!