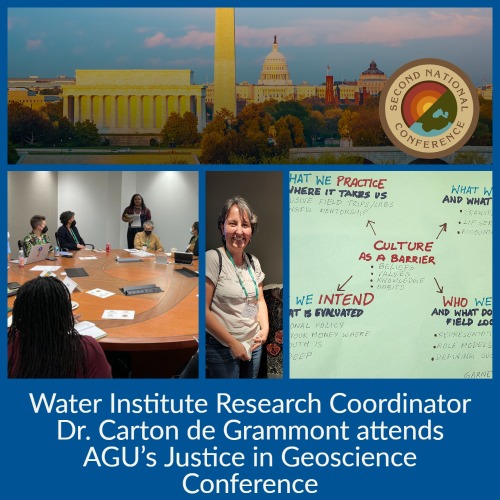 Water Institute Research Coordinator Dr. Carton de Grammont attends AGU's Justice in Geoscience Conference
Last month, Dr. Paloma Carton de Grammont who serves as the Water Institute Diversity, Equity, and Inclusion (DEI) focal point, attended the American Geophysical Union's Justice in Geoscience Conference in Washington DC.
For the last couple of years the Water Institute began to be intentional and proactive in its efforts to diversify the community of faculty, students, and stakeholders we collaborate with. However, diversifying is not enough, we must create spaces that are inclusive, equitable and just, we need to design programs that are welcoming to people of diverse backgrounds and for that we all need to understand the challenges and barriers that traditionally excluded demographic identities face in academic spaces and beyond.
The second conference for Justice in Geosciences was conceived as a space to reflect on the past (what has worked and what has not), to recognize the urgent challenges we must overcome, and to collectively imagine the radical changes needed to make the Earth Sciences a diverse, equitable and just space for all. From provocative keynote speakers*, reading and discussion sessions, to workshops, arts and performances, the conference was also a magnificent space for networking and connecting with students, faculty, and program leaders who are actively working towards broadening the participation of Black, Native/Indigenous, and Latinx students and scholars in geosciences and related disciplines.
In upcoming months, conference participants will contribute to the 2072 Report, a roadmap that scholars and community members can use to advance DEI in geoscience over the next fifty years. The Water Institute will use the lessons learned by Dr. Carton de Grammont in the design and implementation of new programs.
*Recording of the plenaries are available at https://www.agu.org/Chapmans-SNC-Justice-in-Geoscience
September 6, 2022