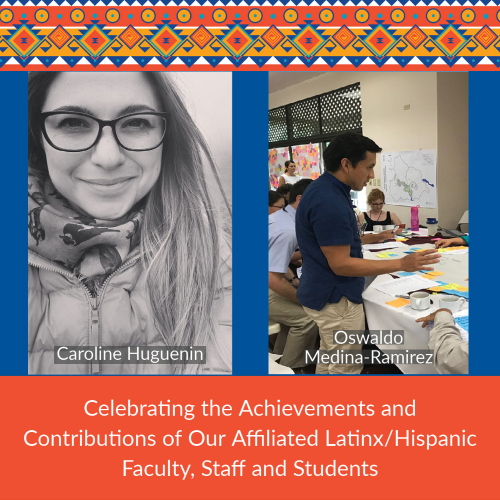 In commemoration of Latinx/Hispanic Heritage Month we celebrate and highlight the scholarly achievements and contributions of UF Water Institute affiliated Latinx/Hispanic faculty, staff and students working to understand and solve interdisciplinary water issues.
Today we highlight two Water Institute Graduate Fellows from the 2017 Cohort whose research helps to understand the socio-ecologic dynamics of the Tempisque watershed in Costa Rica and identify strategies to achieve watershed resilience and support the management decisions of Palo Verde National Park.
---

Caroline Huguenin
Caroline Huguenin is a PhD candidate in UF's Geography Department under the advice of Dr. Peter Waylen. Her doctoral dissertation aims to model the variability of extreme hydroclimatic events in the Tempisque basin using Extreme Value and Crossing Theory. Her research will enhance the development of mathematical dynamic models and will help to improve water allocation decision-making processes.
Caroline holds a master's degree in Water Sciences and Engineering from the UNESCO-IHE Institute in Delft, Netherlands and a B. S. in Civil Engineering from the University of Costa Rica.  She has been an Advisory Board member of the Water Youth Network and led several sessions in the seventh World Water Forum (WWF 7th) in South Korea. Caroline also collaborated with the Gainesville-based nonprofit "Current problems" which aims to restore and protect the water resources of North Central Florida.
---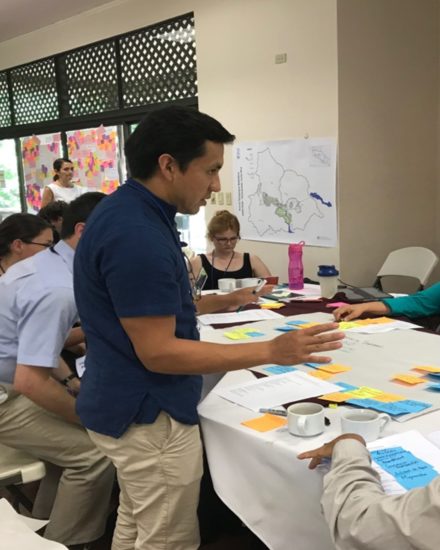 Oswaldo Medina-Ramírez
Oswaldo Medina-Ramírez is a PhD candidate in UF's Department of Anthropology with a specialization in governance and policy, under the advice of Dr. Jeffrey Johnson. His research seeks to advance the theory and practice of collaborative water management by developing a better understanding of the role of the state, and how its officials experience and navigate interagency collaboration for water governance in Costa Rica.
Oswaldo has worked in various policy and management positions in the Ecuadorian Ministry of Agriculture, and the Provincial Government of Loja-Ecuador. He has worked and conducted interdisciplinary research in several countries including his native Ecuador (agricultural development), Costa Rica (water governance), Honduras (Feed the Future – USAID), Brazil (Programa de Municípios Sustentáveis), Bolivia (Food and Agriculture Organization of the United Nations). Oswaldo holds an M.A. in Sustainable Development Practice from UF, and a B.Sc. in Socioeconomic Development and Environment from Zamorano University in Honduras.
September 30, 2021