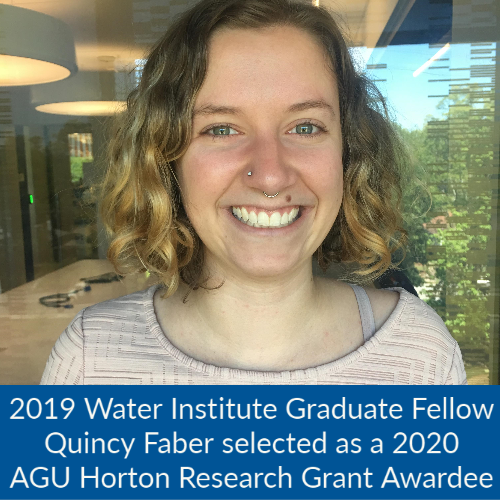 Quincy Faber, who is completing her first year as a 2019 Water Institute Graduate Fellow, has been selected as one of two winners of the 2020 AGU Horton Research Grant, a prestigious and competitive award.
The grant will provide funds to attend the 2020 virtual AGU Fall Meeting as well as $10,000 USD to support her research in Greenland, where she will be collaborating with an EU-funded project (Deep Purple). The aim of her research is to characterize algal and microbial processes at depth within the ice to better understand the contributions of algae on nutrient fluxes in the Greenland Ice Sheet and surrounding areas. The melting of glaciers and ice sheets is accelerated by the growth of algae that colonize ice surfaces and produce pigments that darken the ice. This positive feedback increases melt water production and habitability, resulting in algal blooms on ice surfaces that are detectable from space. The growth of algae contributes to generating a ~2 m layer of porous, water-containing ice at the surface, and the algae also sequester atmospheric carbon dioxide and contribute nutrients that play important, yet poorly understood roles in environments that receive meltwater.
With a Bachelor's degree from Georgia Institute of Technology, Quincy is now pursuing a PhD in Microbiology and Cell Sciences with Dr. Brent Christner and is the first student from the University of Florida to receive this award. "Receiving this award is really a great honor and fantastic recognition of the importance of her research," said Dr. Wendy Graham, Director of the Water Institute.

Photo by Jon Martin