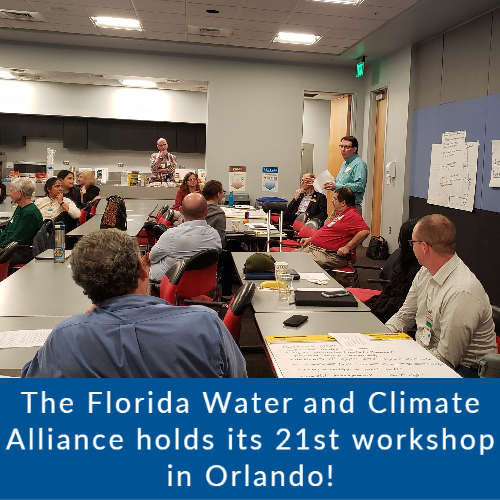 The Florida Water and Climate Alliance (WCA) held its 21st workshop on February 7 in Orlando Florida, hosted by the Orlando Utilities Commission (OUC). Celebrating its 10th year in 2020, the FloridaWCA is a stakeholder-scientist network committed to the co-development of relevant and usable climate information, data and tools for water utilities and managers in Florida.
The free one-day workshop drew 37 participants representing 21 different organizations. Participants engaged in interactive group activities, presentations and discussion that focused on the following topics and projects:
Innovative research and collaboration efforts in Florida
Integrating NASA earth systems data into decision-making tools of member utilities of the FloridaWCA
Stormwater management in the context of extreme events
In the participants' own words, there was "great technical content and capabilities amongst participants." After a day of presentations and discussion, attendees noted that although there is "much being done, there is still much to do," with respect to water resource planning and management in the context of climate change.
The FloridaWCA will host two additional workshops in 2020: May 29 in Miami; and September 25 in Tallahassee. For more information, go to floridawca.org or contact Karen Schlatter at kschlatter@ufl.edu.