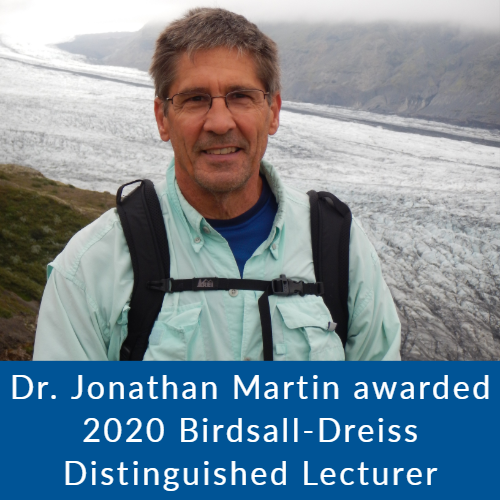 Join us in congratulating Dr. Jon Martin for being awarded the 2020 Birdsall-Dreiss Distinguished Lectureship from the Hydrology Division of the Geological Society of America. The lectureship is awarded for "outstanding contributions to hydrogeology or a closely related field through original research and public communication, and the potential for continued contributions to the profession".
During his Lectureship term, Dr. Martin will be visiting other institutions in the US and abroad to speak about his current primary research topics: 1) High Latitude Hydrology: Water in a Changing World; and 2) Reversing Springs: Impacts on Carbonate Aquifers. 
Dr. Martin is a Professor of Geological Sciences and has been an Affiliate Faculty of the Water Institute since its inception. He has served on the Institute's Faculty Advisory Committee for four terms and was awarded the 2014 Faculty Fellow Award. He was part of the Water Institute Graduate Fellows (WIGF) 2013 Cohort Impacts of Sea-Level Change on Coastal Aquifers, Water Resources, and Ecosystems, and is now leading the current 2019 WIGF Cohort High Latitude Hydrology: Water in a Changing World. Dr. Martin is also leading the NSF Funded Carbonate Critical Zone Research Coordination Network (Carbonate CZ-RCN).