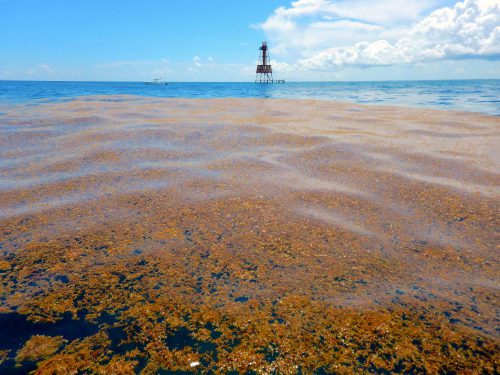 Summer is Coming and So is Sargassum
Summer is Coming and So is Sargassum
by Sarah Breske
GAINESVILLE, Fla. — Until recently, fishermen searched eagerly for sargassum seaweed. The bushy brown macroalgae floats, suspended by tiny air sacs, in mats that provide shelter and habitat to a host of marine organisms, including many prized fish that are sought after by anglers.
"The [sargassum] holds a lot of life," said David Barrios, a recreational fisher who frequents Biscayne Bay. "Oftentimes, there are schools of little fish or sometimes shrimp that pool around the seaweed. This then causes bigger fish, such as mahi and other pelagics, to school around during feeding times."
Now fishers like Barrios sometimes struggle to avoid sargassum, as populations of the algae in the western Atlantic Ocean and the Caribbean Sea have exploded in recent years.
Classified as an essential habitat by the National Oceanic and Atmospheric Administration, sargassum is now becoming a burden to some parts of the ocean and to coastal economies.
Mats that used to extend yards now can stretch to the horizon, said Brian LaPointe, an algae researcher at Florida Atlantic University during a Feb. 26 presentation at the 2020 Water Institute Symposium held at the University of Florida.
According to LaPointe, recent large sargassum blooms in the Florida Keys are a response to high nitrogen levels in the water coming from increased agricultural and urban runoff. He says these large blooms do not have the same number and diversity of species as standard-sized sargassum mats.
"You used to be able to pull up catches of fish with the sargassum in the 80s: mahi and jacks and crabs, lots of crabs," LaPointe said. "Now scientists and fishermen are both noticing that there's definitely a lot less of that biodiversity."
LaPointe and his team first noted a major regime shift in sargassum in 2011 when blooms in the Atlantic Ocean and Caribbean Sea reached an unprecedented magnitude. These have since returned every year during the spring and summer and seem to be increasing.
For example, the July 2018 sargassum bloom stretched from West Africa to the Gulf of Mexico and weighed about 6.4 million tons, or about the weight of 160,000 semi-trucks, according to scientists at the University of South Florida Optical Oceanography Laboratory.
Experts say climate change could be one of the main culprits of this regime shift as increases in the frequency and severity of rainstorms is expected to exacerbate the situation. Heavy rainstorms can increase nutrient-rich runoff into the ocean, fueling blooms.
And impacts from the blooms are not limited to the ocean.
Foul-smelling bloom-beaching events have also threatened human health and impacted tourism in Florida and throughout the Caribbean.
In Barbados, 12,000 people were exposed to high levels of hydrogen sulfide after a sargassum bloom washed up on their shores in 2018, LaPointe said. Acute exposure to the gas can cause convulsions, irritation and at high levels and, in rare instances, death. Sargassum also accumulates arsenic, which adds to the difficulties of physically removing it from the shoreline safely.
On heavy accumulation days, Fort Lauderdale city park crews load more than 70 cubic yards into at least eight dump trucks, writes Ana Zangroniz, Florida Sea Grant Agent for UF/IFAS Extension in Miami-Dade County, in a recent article about sargassum in South Florida.
Researchers monitoring blooms say the trend of increasing bloom size is on track to continue in 2020. According to University of South Florida Optical Oceanography Laboratory, blooms in the Atlantic Ocean, Caribbean Sea, Gulf of Mexico and Florida Straits experienced a 250% increase cumulatively, rising from 0.4 million tons in December to 1 million tons in January.
For LaPointe, who has studied sargassum his whole life — and has even looked at ways to grow it as fuel — the challenge is now to bring populations back into balance. He and his colleagues will continue to study the mechanisms that drive blooms and look for ways to better predict and address their growth.
"The sargassum community is unlike any other on the blue planet," he said. "It's one that needs to be protected and controlled."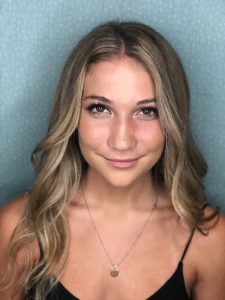 Sarah Breske is a second-year student at the University of Florida majoring in microbiology and journalism. She is interested in genetics and human health and enjoys outdoor recreation.