Sponsor
National Academics of Sciences Engineering and Medicine Gulf Research Program
Award Dates
September 2020 – August 2023
Participants
Project Lead: Micheal Allen (University of Florida)
---
Project Participants: David Chagaris, Christa Court, Wendy Graham, Kelly Grogan, Holden Harris, David Kaplan, Angela Lindsey, Nathan Reaver, Brett Scheffers, Ricky Telg, Bi Xiang
---
Goals and Objectives
Effective management of coupled human-natural systems in the Gulf of Mexico will require integrated approaches that consider landscape-level human-induced stressors along with changes in temperature, precipitation, and species distributions resulting from a changing climate. These coupled impacts will ultimately influence the ecological quality and economic value of coastal ecosystem services such as fisheries, aquaculture, and tourism. 
This interdisciplinary project includes four objectives to evaluate how basin-wide changes in land/water use and a changing climate will influence the quality of natural resources in the Suwannee River estuary, which supports several imperiled species alongside a multimillion-dollar fisheries, aquaculture, and tourism economy. Development of a landscape-level watershed model of the Suwannee River basin (Objective 1) will quantify how changes in land/water use and future climate/weather patterns will influence freshwater quantity and quality delivered to the estuary. Results from the watershed model will inform a trophic-dynamic food web model (Objective 2) to explore how changes in freshwater quality/quantity and changing species distributions will influence fish and shellfish populations that are important to fisheries, aquaculture and tourism. The project will then develop stated-preference economic surveys to evaluate the economic implications of each future scenario on ecosystem services and coastal communities (Objective 3). Throughout the project, we will integrate results with social science and management actions using a set of public focus groups, webinars, and a public workshop (Objective 4).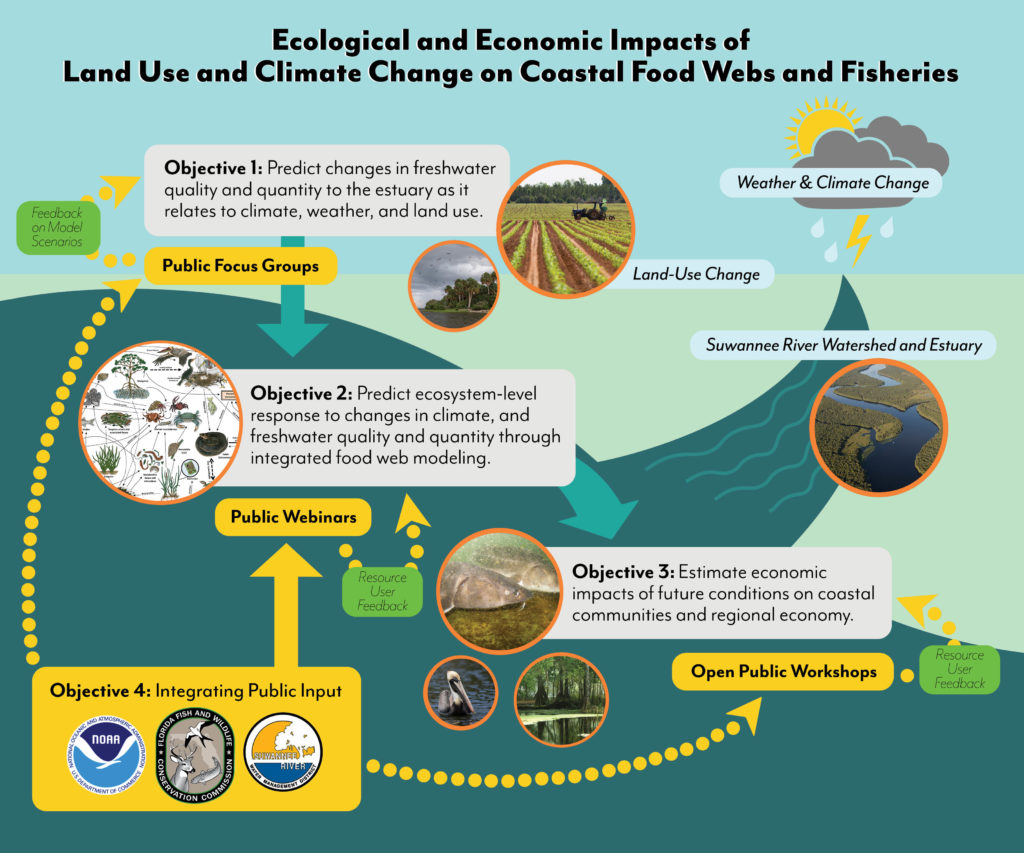 ---
Anticipated Project Outputs
This project will comprehensively assess how changes in climate and watershed land/water use influence food webs, fisheries, aquaculture, and the nature-linked economic drivers of a tourism economy. The project will outline the implications of a range of future climate and land/water use scenarios that are expected to influence coastal food webs and fisheries in a Gulf of Mexico estuary, focusing on the Suwannee River estuary. Educational materials and programs will be developed and implemented that allow the research findings of this project to be easily accessed and understood by the public. The project has broad support among partnering state and federal management agencies and represents a comprehensive approach to basin-scale challenges facing natural resource management.