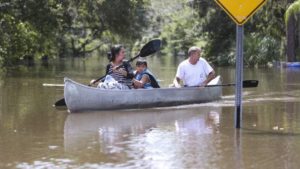 A swollen Alafia River following Hurricane Irma, 2017. Courtesy of Monica Herndon, Tampa Bay Times.
Sponsor
Tampa Bay Water
Award Dates
August 2020 –  August 2024
Participants
---
Project Lead
Graham, Wendy (University of Florida)
Reisinger, AJ (University of Florida)
Project Participants
Harris, Casey (University of Florida)
Goals and Objective
---
The Coupled Model Intercomparison Project Phase 5 (CMIP5) General Circulation Models (GCMs) have been used to project future climate and assess future climate impacts on hydrologic systems. In order to understand future water supply risks associated with potential future climate scenarios and human water use scenarios in the Tampa Bay region, Tampa Bay Water and University of Florida recently completed a project that used eight bias-corrected statistically downscaled CMIP5 GCMs and eight possible future water use scenarios to drive the INTB model. Five of eight GCMs projected a decrease in streamflow and groundwater availability in the future regardless of water use scenario or evapotranspiration method indicating a high probability of a reduction in future freshwater supply in the Tampa Bay region if environmental regulations intended to protect current aquatic ecosystems do not adapt to the changing climate.
In addition to changing future surface and groundwater availability, potential future changes in precipitation and temperature patterns may also lead to water quality changes that could put Tampa Bay Water's water supply at additional risk.  In particular, extreme rainfall events, such as hurricane Irma that occurred in 2017, have the potential to increase color, turbidity, total organic carbon and decrease alkalinity in the Hillsborough River, Tampa Bypass Canal, and Alafia River that are source waters for Tampa Bay Water's surface water treatment plant. During some extreme events, the deterioration of water quality of these water sources prevents their introduction into the surface water treatment plant, making the plant solely dependent on water from the surface water reservoir and leading to increased risk of the reservoir not being filled by the end of the wet season. 
The goal of this project is to develop a framework to assess potential risks of climate change on surface water quality in the Hillsborough and Alafia River watersheds and therefore risks to Tampa Bay Water's surface water supply.