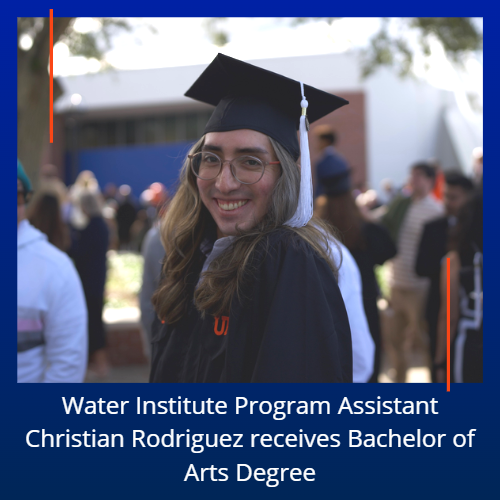 Water Institute Program Assistant Christian Rodriguez receives Bachelor of Arts Degree!  
Christian Rodriguez joined the Water Institute as a program assistant this summer, bringing a diverse skillset in program management and coordination, event planning, administrative support, and communications.
Christian is a first-generation immigrant college student, with an Associate of Arts degree from Santa Fe College. While pursuing his bachelor's degree at University of Florida, Christian has worked full time, first for the UF Survey Research Center, followed by the UF Center for Undergraduate Research and now the UF Water Institute. At the Water Institute, Christian not only provides managerial and administrative support, but has taken on a key role in coordinating our student focused programs.
We are very proud of Christian's landmark achievement, and we are looking forward to his continued professional development and contributions to Water Institute programs.  
Happy Graduation!
December 19, 2022