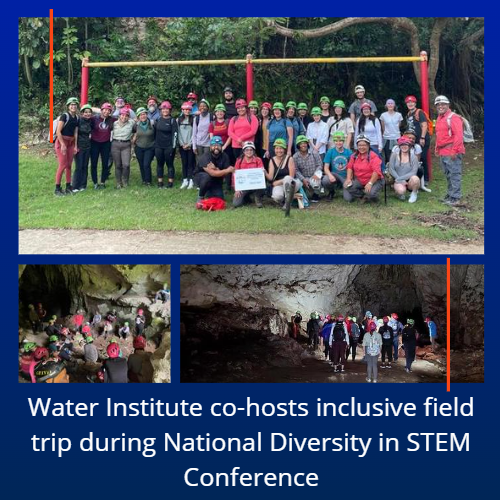 UF Water Institute co-hosts inclusive field trip during National Diversity in STEM Conference
The UF Water Institute-coordinated, NSF-funded, Carbonate Critical Zone Research Coordination Network hosted a field trip during the SACNAS National Diversity in STEM Conference in San Juan Puerto Rico on October 29, 2022.
The event was led by UF Water Institute Research Coordinator Dr. Paloma Carton de Grammont and Dr. Ángel Garcia Jr. an Assistant Professor of Geology and Environmental Science at James Madison University (JMU) with the support and presentations from ten local and national experts.
The activity offered an inclusive field experience to 22 students and early career scientists from demographic groups that have traditionally been underrepresented in the Geosciences. The program provided a holistic overview of the scientific and cultural significance of Puerto Rican caves by exploring intersections among geology, hydrology, ecology, archeology, and community management.    
The field trip also provided opportunities to discuss the importance of conducting research in close collaboration with local scientists and with benefits to the local communities, and to reflect on the ethical responsibilities of scientists, particularly as it relates to extraction of samples and use of data that belong to those communities.
The field trip was sponsored by NSF, IRIS, JMU, UF and Universidad de Puerto Rico en Arecibo.
To learn more visit: https://carbonatecriticalzone.research.ufl.edu/sacnas/
November 21, 2022