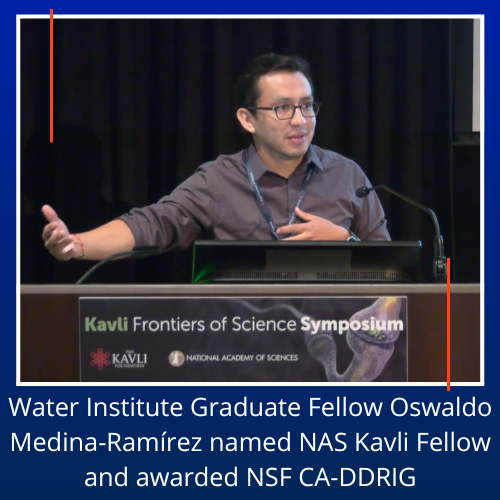 Water Institute Graduate Fellow Oswaldo Medina-Ramírez named NAS Kavli Fellow and awarded NSF CA-DDRIG
Oswaldo Medina-Ramírez, PhD. Candidate at the UF Anthropology Department and a Water Institute Graduate Fellow (cohort 2017) was named a National Academy of Sciences (NAS) Kavli Fellow, joining a selected group of early-career scientists in the U.S. and abroad who have made recognized contributions to science.
Kavli Fellows are invited to participate in the Kavli Frontiers of Science symposium series — the Academy's leading activity for distinguished young scientists, which provides a forum for the future leaders in U.S. science to share ideas across disciplines and to build contacts and networks as they advance in their careers.
Oswaldo was also awarded the highly competitive National Science Foundation – Cultural Anthropology Program Doctoral Dissertation Improvement Research Grant (CA-DDRIG) to examine participation fatigue among water managers in Costa Rican water governance networks. As a Political Anthropologist, Oswaldo specializes in governance and public policy. His doctoral research focuses on environmental governance, particularly the role of state officials in promoting more democratic modes of governing water in the tropics. Oswaldo is part of the Inducing Resilience for Water-Subsidized Systems Project, a Water Institute Graduate Fellows cohort that brings social and natural scientists together to understand, and develop strategies to better manage, complex water issues. As an interdisciplinary researcher/practitioner, he has worked in various policy and management positions with the government of Ecuador and has conducted research with state and civil society organizations throughout the Americas.
"I can easily say that the support received from the UF Water Institute and my interactions with my cohort's colleagues/professors and Costa Rican collaborators have been instrumental in developing my research ideas" – Oswaldo Medina-Ramírez
October 11, 2022