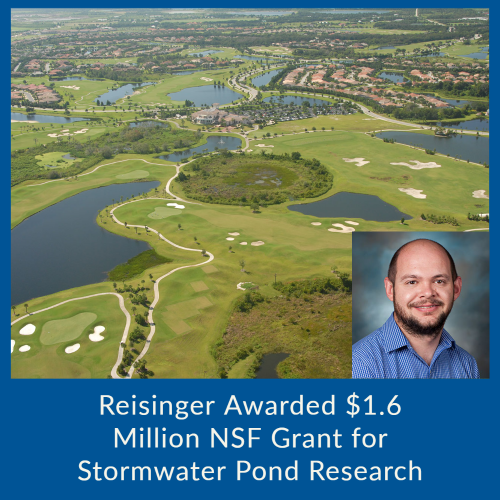 2021 Water Institute Faculty Fellow and Affiliate Faculty AJ Reisinger (UF/IFAS Soil, Water and Ecosystem Sciences Department) is the PI on a $1.6 million NSF award to quantify ecosystem services of stormwater ponds. To conduct the research, Reisinger will lead an interdisciplinary team of UF/IFAS scientists: 
Stormwater ponds capture rainwater that runs off of urban and suburban landscapes before it enters natural waters like lakes or rivers. The ponds can provide various ecosystem services such as improved water quality and pollutant removal, enhanced property values, and increased biodiversity. The project will combine environmental, economic, and social research to understand how human behaviors and management of stormwater ponds interact with natural processes – and how that in turn affects ecosystem services. The research will inform ways to optimize ecosystem services of stormwater ponds to provide the most value to communities and the environment.
Read the project press release here.
August 25, 2022