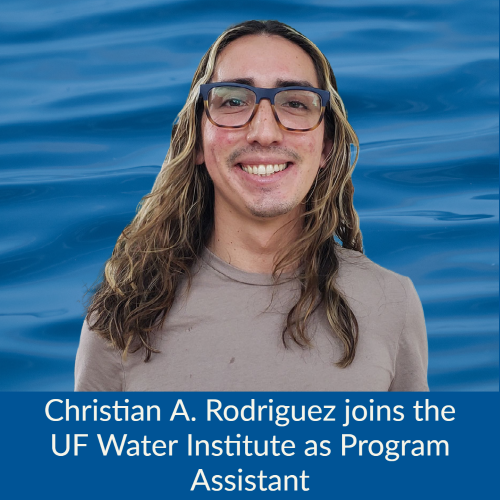 Meet Christian A. Rodriguez, UF Water Institute New Program Assistant
Hello all,

I am thrilled to announce my role as the new Program Assistant for the Water Institute! I am excited to bring an exceptional combination of administrative, fiscal support, program management, and website maintenance experience to the office.

I previously worked with the UF Survey Research Center as a Programming Supervisor and later worked with the UF Center for Undergraduate Research as an Administrative Specialist I. While not intentioned, my career at UF has enjoyably been centered around supporting the incredible research our faculty and students partake in.

Though a bumpy road, I am finishing my Bachelor of Arts Degree from the University of Florida this coming Fall. As a first-generation immigrant college student this is an exciting accomplishment for my family and me! I am still undecided but hope to apply to a Master's program at UF next year.

Outside of academics and work, I am a foody and am always looking for new places to eat! I play quite a lot of video games on my PS4 (still waiting on a PS5!) and Switch. I love nail art and will usually always have a design on my nails all done by myself! I have danced since my teens and was part of UF Danza for two years where I was able to choreograph a few pieces.
Welcome Christian!
June 9, 2022