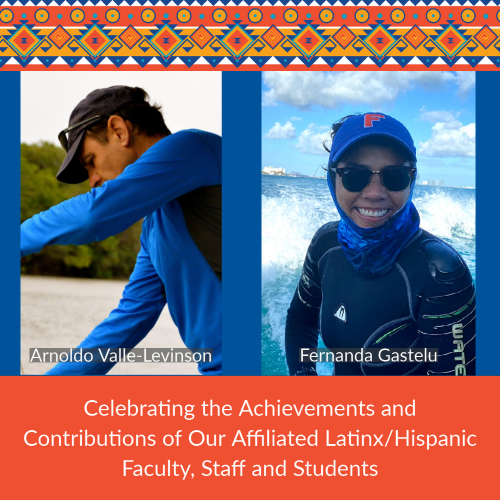 In commemoration of Latinx/Hispanic Heritage Month we celebrate and highlight the scholarly achievements and contributions of UF Water Institute affiliated Latinx/Hispanic faculty, staff and students working to understand and solve interdisciplinary water issues.
---

Dr. Arnoldo Valle-Levinson
Dr. Arnoldo Valle-Levinson is a Professor in the UF Civil and Coastal Engineering Department and is currently a Program Officer in the Physical Oceanography program at the National Science Foundation. His research aims to understand estuarine and coastal hydrodynamics, focusing on the interactions between fresh and salt water, how ocean hydrodynamics impact coastal freshwater resources, as well as the impacts of sea-level rise. He is the author of a new book Introduction to the Hydrodynamics of Estuaries, which will be published in late 2021.
Dr. Valle Levinson is a 2016 Water Institute Faculty Fellow and has participated in two Water Institute Graduate Fellow cohorts: WIGF 2013, which carried out interdisciplinary research to improve understanding of potential impacts of sea-level change on coastal aquifers, water resources, and natural ecosystems; and WIGF 2019 that focuses on changing hydrology, ecology and geochemistry on a broader scale in Greenland.  
He is a Corresponding Member of the Mexican Academy of Sciences, and has been a visiting professor, including a Fulbright Fellow, at institutions around the world, including Chile, Brazil, Peru, Colombia, France, Italy, The Netherlands, Spain, Germany, Japan, South Korea and Australia. An estuary in Chile has been named in his honor: 'Estero Arnoldo.'
---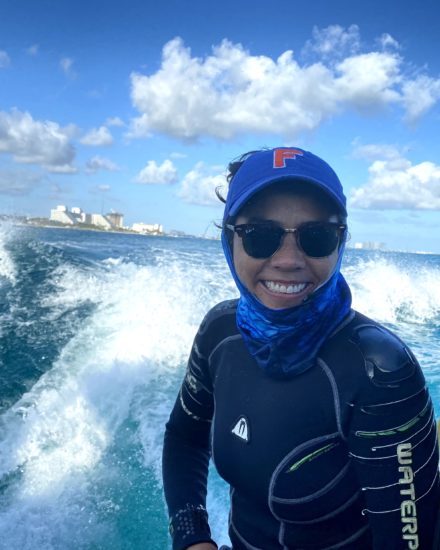 Maria Fernanda Gastelu Barcena
Maria Fernanda Gastelu Barcena is a PhD student in the UF Civil and Coastal Engineering Department, a 2019 WIGF Fellow and a member of the interdisciplinary NSF funded SILA project (Significance of Ice-Loss to Landscapes in the Arctic). Her PhD advisor is Dr. Valle-Levinson.
As part of her PhD research, Fernanda studies fjord hydrodynamics in Greenland to better understand the global influence of the circulation of Greenland's fjords. She is also a Fellow 2021 Mesoamerican Reef (MAR) leadership program, where she works to build civic engagement and citizen awareness on how land pollution affects the Mesoamerican coral reef system through hydraulic communication in the karst aquifer. Fernanda is also contributing to the mission of the Center for Coastal Solutions at UF by investigating estuarine hydrodynamics in Sanibel Island, FL.
September 22, 2021