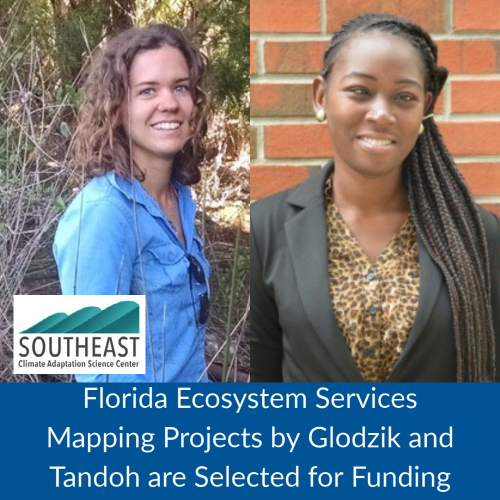 Two Florida ecosystem services mapping projects proposed by UF Post-Doctoral Research Associate Katie Glodzik (Soil and Water Sciences, Advisor Dr. Mark Clark; 2013 Water Institute Graduate Fellow) and PhD Student Shirley Tandoh (School of Construction Management, Advisor Dr. Robert Ries) have been funded by the Southeast Climate Adaptation Science Center (SE CASC) in collaboration with the Water Institute. The funding is part of the SE CASC Ecosystem Services Working Group initiative, which builds on Duke University Nicholas Institute efforts to map supply and demand for various ecosystem services across the Southeast.
Glodzik's project, "Facilitating Marsh Migration Datasets for Florida," will assess impacts of different sea level rise scenarios on ecosystem services provided by salt marsh and coastal forest habitat along Florida's Gulf Coast. Glodzik will share her findings on the potential changes in the extent of salt marsh and coastal forests, which could be used to inform coastal management plans, with the Lower Suwannee River National Wildlife Refuge and other agencies.
Tandoh's project, "Ecosystem Services and Natural Capital in Developing and Developed Regions," will assess impacts of development and urbanization on water-related ecosystem services. Tandoh will partner with St. John's River Water Management District (SJRMWD) and Alachua County to assess the altered state of the water cycle for different development scenarios as compared to a modeled baseline in the SJRMWD watershed. The focus is to identify strategies for maintenance and restoration of ecosystem services.
Both projects will produce an ArcGIS StoryMap to share with stakeholders and the SE CASC Ecosystem Services Working Group in Summer 2021.
To see examples of ecosystem services Story Maps developed by Duke's Nicholas Institute, click here.