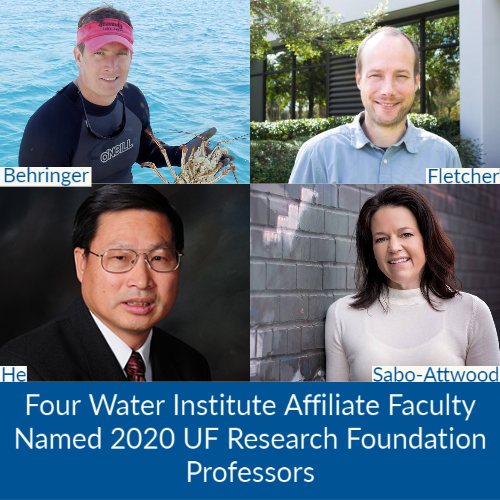 Four Water Institute Affiliate Faculty named 2020 UF Research Foundation Professors
Please join us in congratulating Dr. Donald Behringer, Dr. Zhenli He, Dr. Robert Fletcher and Dr. Tara Sabo-Attwood for receiving 2020 University of Florida Research Foundation Professorships. This recognition goes to "faculty who have a distinguished current record of research and a strong research agenda that is likely to lead to continuing distinction in their fields" (UF Research).
Dr. Behringer is an Associate Professor of Marine Ecology and Diseases with joint appointment with School of Forest Resources and Conservation and the Emerging Pathogens Institute. His research focuses on marine disease ecology and epidemiology, the resilience and restoration of marine communities impacted by human or natural disturbances, and the ecology and behavior of marine invertebrates.
Dr. Fletcher is Professor of Landscape Ecology and Conservation at the Wildlife Ecology & Conservation Department and is affiliated with the School of Natural Resources and the Environment. His research focuses on providing solutions to large-scale problems including the impacts of habitat loss and fragmentation, landscape connectivity and environmental change in aquatic ecosystems such as the Everglades and the Kissimmee Chain of Lakes in Florida. 
Dr. He is a Professor of Soil Fertility and Environmental Chemistry and Associate Director of the Indian River Research and Education Center. His research interests include soil biogeochemistry of nutrients and contaminants, remediation of contaminated soil and water, citrus nutrition, management of nutrients, wastes, and water quality.
Dr. Sabo-Attwood is Associate Professor and Chair of the Department of Environmental and Global Health, member of the Center for Environmental and Human Toxicology and Emerging Pathogens Institute at the University of Florida, and serves in the Water Institute Faculty Advisory Committee. Her research includes aquatic toxicology were she applies her research on nanomaterials and other particulates to assess the susceptibility of aquatic vertebrates and provide relevant information to improve water quality in aquaculture settings. Dr. Sabo-Attwood is also investigating chemical profiles present in water sources in developing nations, such as Haiti.
To see the full list visit: https://news.ufl.edu/2020/05/uf-research-foundation-names-2020-professors/