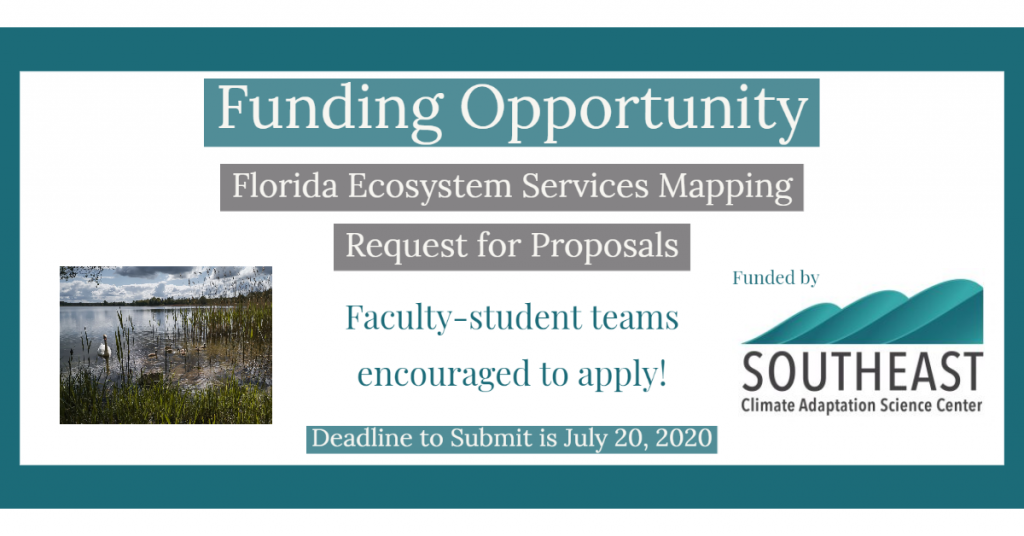 Water Institute Affiliate Faculty and Students:
We are pleased to announce a funding opportunity for faculty-student teams to develop case studies of ecosystem services mapping for specific use by a Florida natural/cultural resource agency or other local entity making decisions on a landscape scale. This effort is being funded through the Southeast Climate Adaptation Science Center (SE CASC), of which University of Florida is a Consortium member.
For background, Duke University, another SE CASC Consortium member, has developed several datasets that map supply and demand for specific ecosystem services, such as pollinator habitat. An example of applying ecosystem services mapping tools for a specific use is the North Carolina Natural and Working Lands report and associated additional datasets and story map, part of the North Carolina Climate Risk Assessment and Resilience Plan. Here is a short summary of the available maps (and where they have been generated) and methods (which can be applied to produce similar maps anywhere).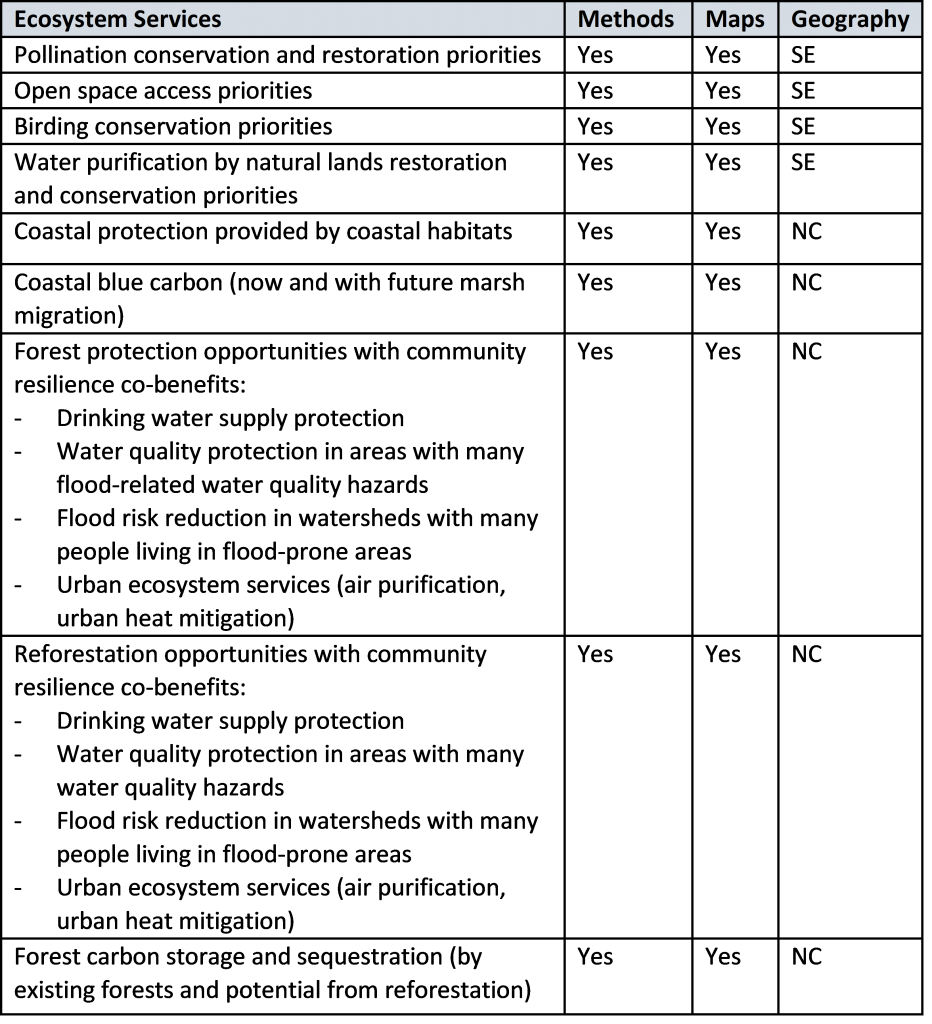 (SE refers to the 10-state region of the SE CASC: FL, GA, AL, MS, AR, TN SC, NC, PR, VI)
$6,000 in direct costs is available to University of Florida faculty-student teams to develop case studies of ecosystem services mapping for use by a Florida natural/cultural resource agency. Funds will be provided for OPS student support and will be split across 1-3 case studies depending on the level of effort required. Student members of the teams should have demonstrated proficiency in GIS.
Duke researchers will provide two webinars for this work: the first on ecosystem services maps and methods (currently scheduled for Tuesday, August 25 at 1pm ET) and the second on developing story maps as a communication product from the work. They have also offered to provide up to two (1-hour) office hour sessions to help with the technical aspects of adapting their maps and methods to your projects. Faculty advisors would be responsible for (recruiting if needed and) overseeing a student and connecting/collaborating with a specific agency contact to determine a use case and goal for the work. The project would need to be completed by June 2021.
If you are interested in this opportunity, please send the student's CV and a 1-page proposal to water-institute@ufl.edu by July 20, 2020, with the following information:
Names of student and advisor
Potential case study, including technical and geographic scope (this will be further fleshed out with stakeholders during the project)
Names, agencies, and description of existing relationship with natural/cultural resource agency stakeholder partners
Potential datasets to be used
Budget
Please don't hesitate to contact us if you have any questions.