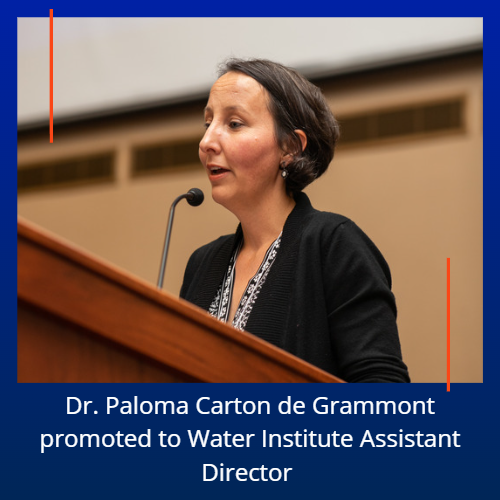 Dr. Paloma Carton de Grammont Promoted to Water Institute Assistant Director
Please join us in congratulating Dr. Paloma Carton de Grammont as she steps into the new role of UF Water Institute Assistant Director. In this role Dr. Carton de Grammont will assist the Water Institute Director in developing, implementing, and evaluating interdisciplinary Water Institute Research, Education and Outreach programs.  She will have primary responsibility for Water Institute Outreach, Stakeholder Engagement and Communication initiatives.
Dr. Carton de Grammont earned her Ph. D. in Geography from Universidad Nacional Autónoma de México, where her research focused on integrating human dimensions into biodiversity conservation policy.  She has twenty years of experience supporting interdisciplinary, multi-institutional, and international teams addressing natural resource management and governance issues.
Since joining the Water Institute as a Research Coordinator in 2018, Dr, Carton de Grammont has fostered partnerships among Water Institute Affiliate faculty and staff, external partners, and stakeholders; supported faculty, student and stakeholder teams to develop and execute externally funded research projects; and led the development of the Water Institute's Inclusion, Diversity, Equity and Accessibility Action Plan.
"Paloma's diverse educational background and extensive experience allow her to bring a unique ability to understand water challenges from both social and natural science perspectives.  Her skills as a facilitator and coordinator of interdisciplinary teams are a tremendous asset to the UF Water Institute" said Dr. Wendy Graham, Director of the UF Water Institute.  
"I am looking forward to this new adventure that will allow me to further support the Institute and pursue my passion of bringing people together to build a diverse community of researchers, students and stakeholders, said Carton de Grammont, "through new Outreach and Communications programs we hope to better serve the Water Institute community and partners and raise the visibility and impact of Water Institute programs."
January 26, 2023