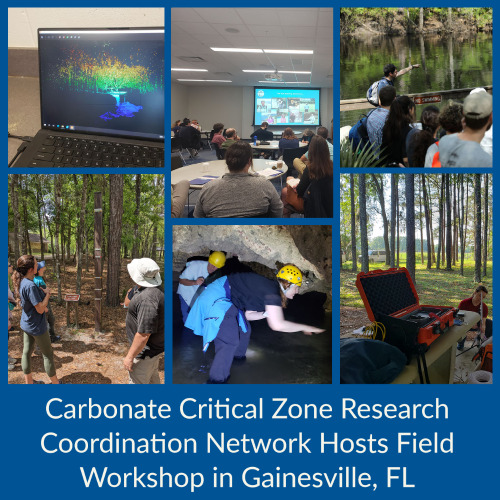 Carbonate Critical Zone Research Coordination Network Hosts Workshop in Gainesville, FL
This spring the Water Institute-coordinated Carbonate Critical Zone Research Coordination Network hosted its first in-person Workshop!  The three-day Workshop (April 4-6) aimed to enhance networking opportunities among the RCN participants; provide an opportunity for the working groups to advance their goals to develop review papers, and compile and analyze legacy datasets; and to develop and improve activities that will foster diversity and inclusion in the network and the Critical Zone Science community. 
Funded by the NSF, the workshop was attended by 39 participants from across 25 U.S. and Canadian institutions. Participants included undergraduate and graduate students, Post Doctoral Associates, faculty from diverse career levels, and scientists from governmental agencies who represented a range of disciplines: geology, hydrology, ecology, microbiology, ethnoecology, geochemistry, sustainability, and others.
A highlight of the workshop was the field trip, where participants visited and discussed features and hydrologic processes related to the carbonate critical zone in North Central Florida.  The field trip included three stops: Harvey Sharron Bat Cave, Ichetucknee Head Springs, and O'leno Sink-Rise system (for more details see the Field guide). At each stop, network participants and guest speakers provided demonstrations and brief lectures (click on the slider for more details).

Use of LIDAR to image caves (Dr. Ángel Garcia, Veronika Yurchenko and Lorelei Dellavedova, James Madison University)

The image they created has been provided to the cave managers at Santa Fe College

Workshop participants inside main chamber of Bat Cave

Making Accessible Field trips (Dr. Anita Marshall, University of Florida; The International Association for Geoscience Diversity)

Seismological experiments to explore carbonate critical zone structures and responses to changes in surface flow (Dr. Andrew Luhmann, Wheaton College)

Microbial distributions and activities related to surface water and groundwater mixing in the carbonate critical zone (Adrian Barry Sosa, University of Florida)

Workshop participants at Ichetucknee Head Springs

The field trip ended with an evening banquet with an invited guest speaker, Tom Morris, a local ecologist with extensive cave diving experience in the carbonate critical zone in North Central Florida.
The steering committee for the network include Dr. Jonathan Martin (U Florida), Dr. Laura Toran (Temple U), Dr. Matthew Covington (U Arkansas), Dr. Jennifer Macalady (Penn State U), Dr. Angel Garcia (James Madison U), Dr. Pamela Sullivan (Oregon State U), and Dr. Wendy Graham (U Florida). Water Institute Research Coordinator Dr. Paloma Carton de Grammont serves as coordinator and process facilitator of the network.
To learn more about the virtual workshop and view the recordings of the plenary sessions visit the project webpage: https://carbonatecriticalzone.research.ufl.edu/florida-field-workshop/
May 16, 2022