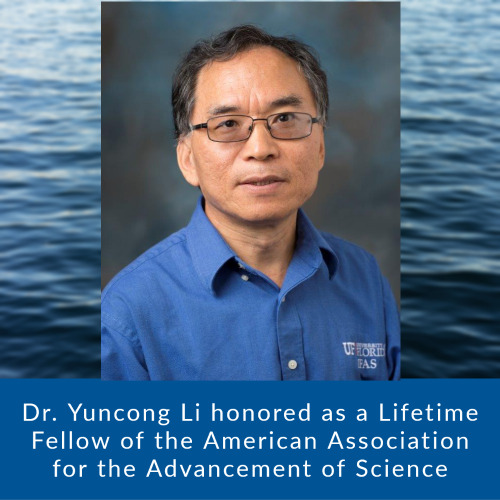 Please join us in congratulating Water Institute Affiliate Faculty Dr. Yuncong Li for being elected a 2021 American Association for the Advancement of Science Lifetime Fellow. Dr. Li is among the 564 scientists, engineers, and innovators recognized for their scientifically and socially distinguished achievements.
Dr. Li is a Professor of Soil and Water Quality in the Department of Soil and Water Science at the Tropical Research and Education Center, IFAS, UF. He is also an Affiliated Professor of UF's Center for Tropical Agriculture, the Hydrologic Sciences Academic Cluster, School of Natural Resources & Environment, and the Water Institute.
Through his research program, Dr. Li develops new fertilizer technology and management practices to improve fertilizer efficiency, plant nutrition and water quality. He also evaluates nutrient cycling in agricultural and natural ecosystems to understand impacts of agriculture on South Florida's ecosystems, and works internationally with collaborators in Asia and South America. Through his extension program he trains Extension agents and producers in nutrient management best practices in South Florida.
January 31, 2022