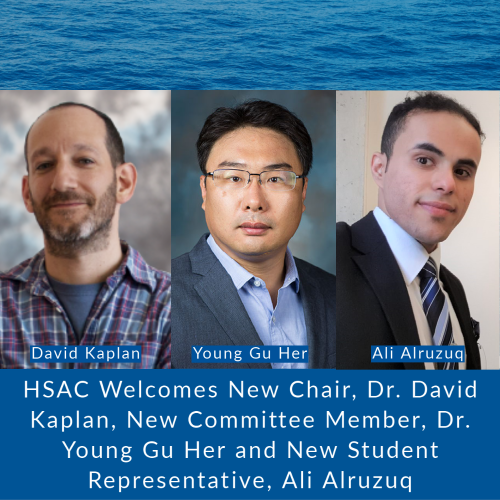 We are pleased to announce that Dr. David Kaplan was elected as Chair of the Hydrologic Sciences Coordinating Committee (HSCC); Dr. Young Gu Her was elected new member of the Committee to serve a three-year term (2021-2024), and Ali Alruzuq was elected as the new Student Representative for the same term. We thank Dr. Sanjay Shukla for his service as Chair of the HSCC over the past year and as a member of the HSCC for the past three years.
The HSCC oversees the Hydrologic Sciences Academic Concentration (HSAC), a unique interdisciplinary program designed to broaden the skills of science and engineering graduate students who are interested in all aspects of water. The Committee is comprised of six elected faculty members (representing each of the six hydrologic sciences topics) and one elected graduate student. The Director of the Water Institute serves as an additional permanent voting member.
Dr. David Kaplan, who serves as representative of the Surface Hydrology topic, was elected as Chair of the HSCC beginning in Fall 2021. He is an Associate Professor and Director of the H.T. Odum Center for Wetlands. Research in Dr. Kaplan's Watershed Ecology Lab focuses on linkages among the hydrological cycle, ecosystem processes, and human activities, with the goal of advancing natural resources conservation and management. He has worked extensively with water and environmental management agencies to tie hydrological modeling to ecological outcomes, restoration impacts, and water management.
New committee member Dr. Young Gu Her will serve as representative for the Analysis and Techniques topic. He is an Assistant Professor in the Department of Agricultural and Biological Engineering. His research interests are to enhance the ability to manage agricultural crop production and natural resources in sustainable ways by 1) developing unified fine-resolution large-scale simulation tools that facilitate integrated hydrological modeling and spatially consistent decision making and 2) creating new scientific knowledge that helps us better understand hydrological processes under projected changes in climate and sea level.
Ali Alruzuq is a Ph.D. student in Geography with a focus in Geographic Information Systems (GIS) and Hydrogeomorphology. Ali has completed the HSAC program through course work focused on assessing impacts of water on the land using different technical methods such as GIS, Remote Sensing, and Unmanned Aerial Systems (UAS).
For more information on the HSAC concentration, please visit the website https://hydrology.ufl.edu/.
Interested students and faculty members can apply for the program here.
August 24, 2021