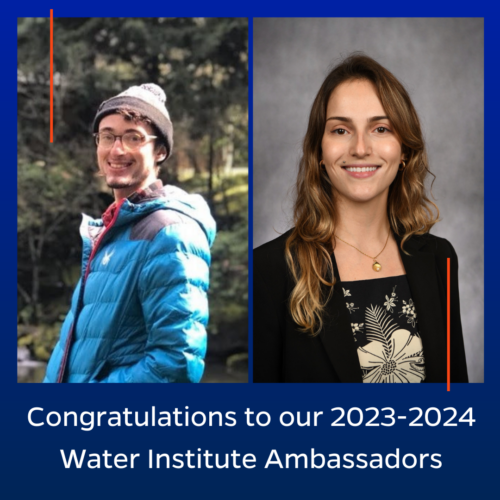 We are pleased to announce our 2023-2024 Water Institute Ambassadors Gabrielle P. Quadrado and Paul Donsky!
As ambassadors, Gabrielle and Paul will play a crucial role in building a graduate student community, providing a platform for greater student participation in Water Institute Programs, and providing networking and leadership opportunities for graduate students. Their dedication and commitment will help promote the Water Institute and support the next generation of students working on water related challenges.
Gabrielle Quadrado

Geography

Paul Donsky

Forest, Fisheries, and Geomatics Sciences
Gabrielle P. Quadrado is a PhD student in the Department of Geography interested in the interactions and feedbacks of climate change, urbanization and other human influences on coastal processes and coastal hazards. Gabi was the graduate representative of the Diversity, Equity, and Inclusion (DEI) Committee in her department from 2021-2022, and in this role organized student-oriented events. She has experience in science communication, public outreach, and academic event planning.
"I am passionate about building community and sharing knowledge about coastal hazards and climate change"… "As an Ambassador I will joyfully tie the knots in the student net and leave a legacy for the future generation of water explorers."
Paul Donsky is a Master Student in Forest Resources and Conservation, a Graduate Research Assistant in the UF Ecohydrology Lab and a Board Member of the Ichetucknee Alliance. Paul will start a PhD in the Fall 2023 and will continue his research on the changing ecological conditions of Florida's springs. Paul has experience in stakeholder engagement, public education and event planning.
"As a graduate student, I am deeply committed to finding solutions to the water resource crisis facing our world … but I am aware that I can only do so much working alone" …"In serving as an Ambassador for the Water Institute, I hope to foster an environment of collaboration, where students can share ideas and engage with the full spectrum of knowledge found across our great university."
We are excited to work with them and will be advertising their events starting Fall 2023!
April 26, 2023